Storage Solutions in Carrollton, Virginia
If you're running out of room, call James River Remodeling to find out how we can transform underutilized areas of your home into fully functional spaces.
James River Remodeling storage solutions are designed to provide our Carrollton clients with a perfect place for everything, including cell phones and car keys. We've been providing Carrollton custom storage solutions for 12 years.
Do you need more closet space?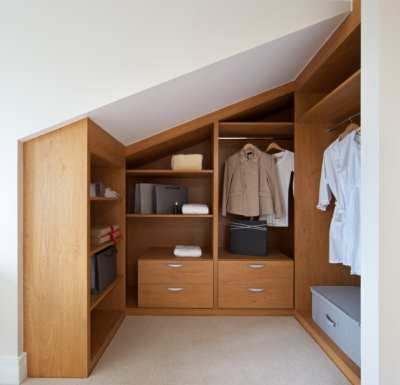 Whether you need room for clothes, seasonal items, or sports equipment, James River Remodeling can reconfigure areas of your home that have storage potential. We have clever organization options designed to make use of every nook and cranny:
open shelving to display collectibles or books
cabinet doors for discreet storage
integrated racks for corners
shelf dividers
pull out shelving for hard-to-reach items
Maximize your home's storage potential with a James River Remodeling solution. For 12 years, we've been providing our Carrollton clients with custom storage solutions.
Eliminate stress.
Let's face it. A more organized home eliminates the stress of not being able to find things. It also gives you more living space by eliminating piles of clutter.
If you've ever forgotten where you put your car keys, cell phone, or pocketbook, we can organize your entry way to make coming and going a breeze.
If your living room looks more like "Romper Room," we can help find a place for all the kids' toys.
Get organized with a Carrollton storage solution, customized for your family's unique needs.
Conquer clutter.
Call (757) 216-9909 to speak with a Carrollton storage solution designer.
James River Remodeling will evaluate your storage needs and come up with a solution that fits your lifestyle and budget. We've been designing custom storage solutions in Virginia since 2007.
We strictly adhere to all Carrollton, Virginia building regulations.
Your investment will pay off by creating a more spacious feel to your home and by creating a more relaxed, clutter-free environment.
---
Call for FREE Storage Solutions Quote
Dial Area Code first please.
---
WHAT CUSTOMERS ARE SAYING:
"Great work!! James River Remodeling was able to handle big and small jobs all around my house. They can handle anything!"

5★★★★★ - "Excellent work and cleaned everything up. I will have them back to Williamsburg in the spring. 5 stars"

Jacqueline

2019-01-02

5★★★★★ - "Great to have this company available for improvements and repairs. This was our second experience with James River Remodeling and it was as well done as the first. The crew is knowledgeable, efficient, polite, and tidy. The work is excellent. I recommend them highly and plan to call them for future jobs at our house."

J & J in Williamsburg, VA

2018-12-03

5★★★★★ - "love the company work"

Mr. Johnson in Newport News, VA

2018-11-12

5★★★★★ - "Extremely professional and affordable quality work!"

Michelle Donehoo in Hampton, VA

2018-08-13

5★★★★★ - "JRR. Travis and his brother Matt took care of my every need concerning the rebuild of my porch. The guys that did the work are top notch craftsmen with years of experience. Recommend them for your every need concerning remodeling or home building needs. Outstanding company, quick quotes, timely and accurate service. A throw back to how businesses should be run and operated.
V/r Jerry Hooker"

Jerry Hooker in Hampton, VA

5★★★★★ - "I needed to have two French doors replaced in my home. I was delighted with the respect and professionalism demonstrated during the removal of the old doors, the installation of the new doors and the care taken to clean up after each step of the process. Once the doors were securely installed, Bobby completed the project by painting the replaced trim and rehanging the shades. All the work was meticulously done with great attention to detail and the finished product looks fantastic! I highly recommend James River Remodeling!"

Lynda in Williamsburg, VA

5★★★★★ - "fair pricing, quality work, great customer service."

matt in Hampton, VA

5 ★★★★★ - "Travis and his team are professional, courteous and experienced. We have been impressed with their work. We needed several major repair projects done and they have done them well with attention to detail. They do good work and are highly recommended! We will hire them again!"

The Ford Family in Hampton, VA

5★★★★★ - "Employees were professional and timely. Completed job displays attention to detail and done correctly. Great business for remodeling needs. "

Susan L. in Williamsburg, VA

2016-10-04

5★★★★★ - "James River Remodeling was one of three companies contacted to provide quotes on remodeling a kitchen and creating a laundry room and half bath from space in the garage. Other than real estate and automobiles this was going to be the costliest purchase and I was determined to make a good decision. I chose James River based on the price quoted and the answers I received from Travis on the technical aspects of the project. At the award meeting Travis advised which day the project would begin. He advised that there would be a crew of between two and four every day that progress could be made and the it would take two and a half weeks to complete the project. Travis advised that he would stop by daily, and if we has concerns we should contact him directly. Everything Travis said happened just as he said it would. The crew arrived promptly every morning and got right to work. They were very professional. They were also friendly. The job was finished in exactly two and a half weeks. We are very pleased with the work and would call James River again should the need arise. There was one instance where I had concern about the was one thing was handled. I emailed my concern to Travis late in the day. The following day the item was reworked to a point that far exceeded my expectations."

Don P. in Newport News, VA

2016-10-04

5 ★★★★★ - "Travis and his crew were very professional. I was having a bad experience with another company and James river stepped in and saved the day. All our business was conducted over the phone and via email, so a lot of trust on both sides was paramount in this business relationship. I would recommend and utilize them over and over again. Especially for Military who gave projects that need to get done but can't be there. Thanks Travis and team."

Ruby

★★★★★ - "James River Remodeling has done several projects for me I had them put in new hardwood floors in my living dining room. They put new ceiling in my bedroom and living room after it fell. Travis in particular has been a great help. We have a really good working relationship, and he is always reliable. Travis and his team can do just about anything, and is always quick to respond to any situation. I can always call and get a project completed in a timely manner. They are just all around fantastic and I would definitely use them again."

Mr & Mrs Johnson in Newport News, VA

5★★★★★ - "I found James River Remodeling online. They came on time, picked up all the supplies needed to finish the job. We had columns replaced on the portico over our front door. It looks beautiful! They are very trustworthy and reasonably priced."

Judy Morrison in Virginia

2016-05-17

5★★★★★ - "Great customer service from James River Remodeling. Travis was very professional and responded back to all of our calls. He also made sure to do a follow-up call after everything was completed. The workmen came when they said they would, finished the job in good time, and cleaned up after they finished. Prices were very fair and I would go back to them again."

Bobby Alston in Virginia

2016-05-17

5★★★★★ - "James River Remodeling has done several projects for me and my community. I have had them put in new hardwood floors in my upstairs hallway and dining room. They put new siding on my home after a bad storm. They created a chair for our church, and put on a new roof. Travis in particular has been a great help. We have a really good working relationship, and he is always reliable. He can do just about anything, and is always quick to respond to any situation. Everyone in my neighborhood has used his services. He does roofing, siding, floors, and I will probably ask him to do some tile work. I have never had any issues or complaints with his work, but I'm certain that if I did he would respond to, and resolve the issue right away."

Ritchard Slye in Virginia

2016-05-17

5★★★★★ - "We had James River Remodeling lift the garage we converted to a den and finish it. They did a really good job and finished in a timely manner!"

Jason Winters in Virginia

2016-05-17

5★★★★★ - "We hired James River Remodeling to do a small job for us. This was our first time using them. They were professional and friendly and I was very happy with the end result."

Jeff A. in Richmond, VA

2016-05-17

5★★★★★ - "Travis is a constant professional who does excellent work Travis over at James River Remodeling does some excellent work. He did some work for me at a rental property that we own in another state. He was really accommodating and worked with us remotely, he even did the walk through on his own. All the work he did was done in an incredibly professional manner, and he sent picture updates to us to keep us up to speed with his progress. After he finished and the tenants moved in they all were impressed with the quality of the work he did and relayed that information to us which was awesome. I have used him multiple times recently and I would definitely recommend him if you need a contractor!"

Eric O. in Washington DC

2016-05-17

5★★★★★ - "James River Remodeling did the jobs really beautifully and did everything on schedule at a very reasonable price. The major projects they did were ripping up the carpet, putting down new vinyl plank floors on the entire upstairs of the house, and also hanging doors. They restored the opening on one door and replaced it with a new exterior sliding glass door, which was done beautifully. They also installed an interior French-style door with glass panes, also done beautifully, as well as numerous other types of restoration work. They picked out very nice material to use. I would say their most outstanding qualities were the skill in laying floors and hanging doors. It takes a lot of skill and they did it very beautifully. They also showed up when they said they would. And if the weather was bad, they would call and let us know. We felt we were on track with all the projects. The whole crew was terrific and I felt I could trust all of them with the key to the house. Whenever we need to hire people to do labor around the house we'll call them."

Todd H. in Williamsburg, VA

2016-05-17

5★★★★★ - "I just have to say that the guys over at James River Remodeling are fantastic. I had been looking to try to procure the parts I needed to do some work on my house through the internet, but the cheapest I could find the parts was about $1,200. I gave these guys a call and not only were they able to find the parts for cheaper, they also did all the labor as well. Having them provide the parts and the labor for less than I could have gotten all of the parts in general was amazing. Plus they were able to do the entire job in less than a week which I thought was really impressive. They are just all around fantastic and I would definitely use them again."

Patrick in Hampton, VA

2016-05-17

5★★★★★ - "Great customer service I liked James River Remodeling's quick response. It was my first time using them, and I will use them again because of their prompt response and good price. They did something with my chimney--put like a wrap on it--and the job turned out good. I would use them again if I needed to. Usually, people don't call back or they wait four or five days. I very much liked their prompt response."

Lynn in Yorktown, VA

2016-05-17

5★★★★★ - "James River remodeling provided excellent service. After I called Travis, he responded quickly, came by the next day and reviewed the work I wanted to get done. He called me that day and provided pricing. He was very specific and explained details to me and arranged for his crew to begin work the very next day. The first project was to replace pipe gaskets around roofing vent pipes and paint the pipes. He will be back tomorrow to continue inside the house to locate a leak in a bathroom. We had not planned to replace the gaskets, but are very pleased that he checked out the gaskets and replaced after he investigated and found them to be dry rotted. This effort will save us from a potential very costly problem. He is polite and respectful. His work is excellent and his pricing is reasonable!"

Walda Patton

2015-04-09

5★★★★★ - "The crew at James River Remodeling came out to insulate my crawlspace and install a new vapor barrier. When they got done with the job Travis let me know about some leaky plumbing and a bit of rotten wood. When I asked him to give me a quote for the repairs he looked at me and said already done. When I asked him how much the repairs would be he said just tip my crew and tell all your friends about us. I was shocked that he done the repairs at no charge just because they were already under the house. I will never call another contractor other then James River Remodeling."

Ronald Angove

2015-04-09

"James River Remodeling redid the siding on my house. They are very experienced, and they provide a very good, capable labor force. They did an excellent job cleaning up after themselves, and they explained what they were doing.

If there are any issues, they talk with you to resolve them. I highly recommend them! They've been used by my neighbors too. They're known in the area as an excellent, local remodeling and repair company."

Richard in Hampton, VA

"I had a great experience with James River Remodeling. They had a good team of workers, and although it was their first time they had been in the area around the Eastern Shore, they were great. The entire team was made up of five individuals who were very approachable very obviously. I had a lot of questions and they put time in to explaining what they were doing and why they were doing it. Travis, the owner, came around and he was very helpful. He's probably the best tile setter I've ever seen.

The work was finished beautifully and on schedule. They did just what they said they would do. I had a lot of exterior painting and labor intensive work with stairs, and they did a great job with everything.

I would definitely use their services again and would recommend them highly to anyone."

Patrick in Hampton, VA

"James River Remodeling did some tile work for me in the past, so I had them remodel my kitchen. It was sort of a difficult remodel since we bought used kitchen cabinets for the project. They had to do some fitting of the cabinets, so they really built the kitchen around the cabinets.

It turned out great! They've always done a good job for me, and I've always been satisfied with their work. They did an awesome job!"

Brian in Hampton, VA

"James River Remodeling is very prompt. We called them for the first time when we needed some work done on a property we were selling. We needed the work done right away, and Travis understood the situation. He was very prompt, and he did an excellent job. I couldn't have asked for any better!

Travis is our contact if anything goes wrong or needs repairs. We are already going to have him come and remodel our kitchen, and eventually we'll have him rebuild the garage. He does a very good job, and I trust him. He seems like a family man. I am very comfortable giving him the key and letting him get to work!"

Candace in Hampton, VA

"My experience with James River Remodeling was wonderful. They're very responsive and I really appreciated that they were able to give me fast and reliable quotes. Travis really sticks with you until the job is done, no matter what problems arise, he'll come right back out to make sure that everything is done to the satisfaction of the owner.

I hired them to do a major remodel for our kitchen and downstairs bathroom. The prices were very competitive. I decided to go with Travis because he was really easy to work with and just on top of his stuff. There was no nonsense and he really wanted to get the job done right. I was very impressed with his crew as well. They were very hardworking and knew exactly what they were doing. When something wasn't done right, they would go right back and fix it. They didn't try to cut corners at all. Additionally, Travis is very particular about the way he wants things to be done. He's excellent at instructing his staff.

When we ran into some minor issues with our bathroom's ventilation, he researched the problem and promptly came back out to us with a solution. He added some spigots to the outside and did some minor changes to the plumbing beneath our house. So far, it has been working out really well. He's very accommodating and truly has the highest commitment to his work. I couldn't recommend him highly enough!"

Rey in Hampton, VA

5★★★★★ - "Travis Tennyson of James River Remodeling has performed outstanding remodeling construction to my house at a very reasonable price. He listens to his customners and makes helpful suggestins to home improvement projects. He is honest and has an excellent relationship with his crew members and the customer. I highly recommend him and his company for any home project--large or small."

Matthew Egerton

2013-10-14

"I have used them several times over the last couple of years and they always do great work, with a personal touch and reasonably priced."
---
Call for FREE Storage Solutions Quote
Dial Area Code first please.
---